ABOUT US
VISION
AIZU DATA VALLEY (provisional)
By utilizing ICI, IoT and environmental technologies, we will deepen links of various fields surrounding citizen's lives such as health and welfare, education, disaster prevention, energy, transportation and the environment, and by making it more efficient and advanced.
For the future, we will build the town that has sustainability, resilience and strong community citizens can live comfortably with peace of mind.
We aim to expand platform aiming to promote regional activation and revitalization through ICT smart city business such as HEMS (energy saving), health care service and tourism.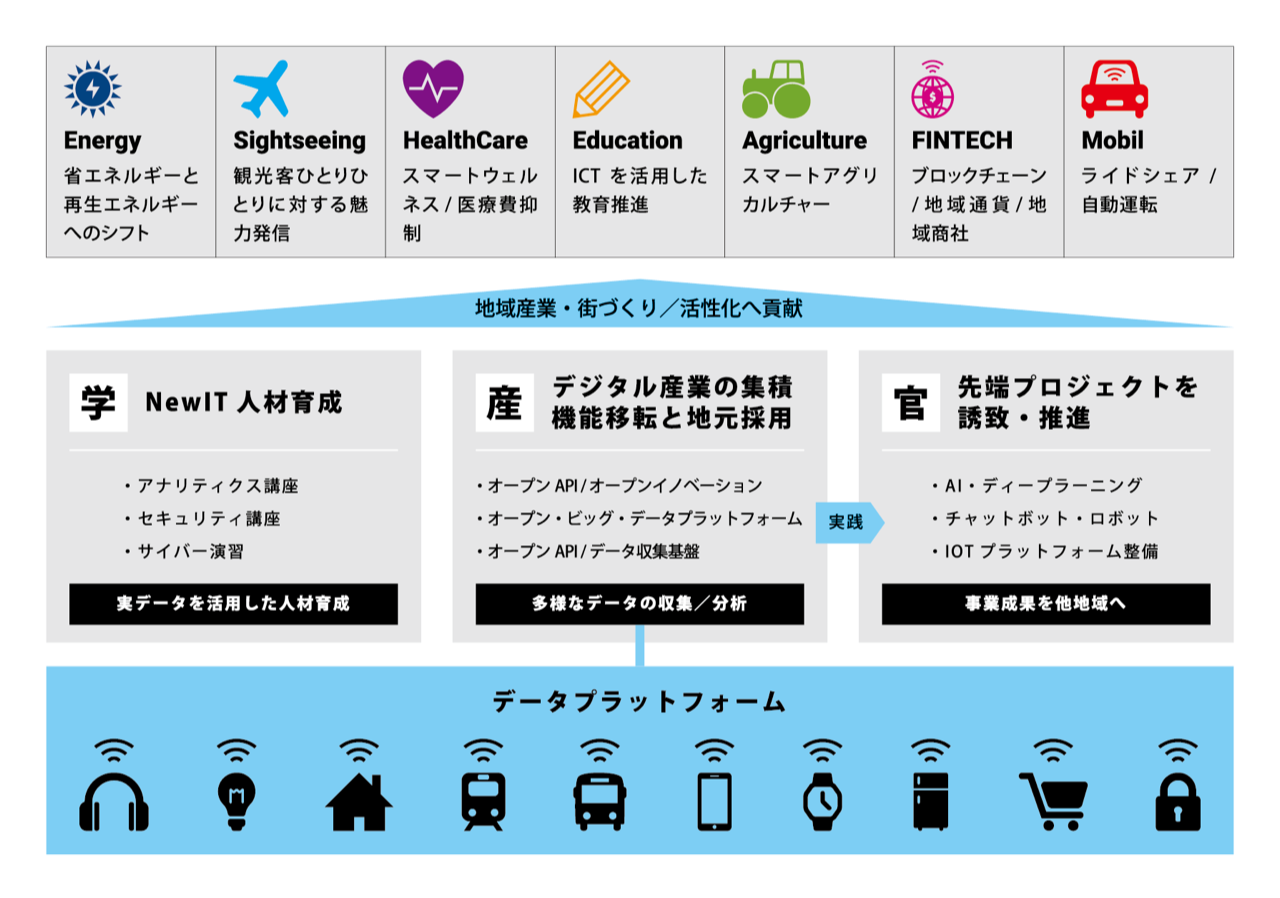 4 Features
Japanese No.1 testbed

Adoption record of the largest number of domestic demonstration projects in Japan

- Proactively promote the cultivation and attraction of the ICT industry and provide the town as a field of demonstration experiment.
- There is the ICT specialized university (University of Aizu), it is the best scale (120,000 people city) for demonstration experiments, and has typical industrial structures and challenges as regional cities.

Reservoir of computer science professionals

The University of Aizu, one of Japan's best ICT professional universities has high-quality engineers

- The University of Aizu is ranked number one in the computer science field nationwide, has been adopted as a super global university, ranked 23rd in Japan University Rankings 2017.
- In order to produce innovative ICT human resources, foreign teachers occupy about half of teachers. Most of the classes are conducted in English.
- Strengthen social science (analytics · cyber security etc) field by partnering with Tallinn University of Technology in Estonia.

Citizen-centric Smart City Business Promotion Area

Developing a regional portal site boasting one of the best citizen utilization rate in Japan

- For strengthening communication between the administrative area, region and citizens, we have developed a portal site "Aizu Wakamatsu + (plus)", about 50,000 unique users browse.
- By utilizing data analysis, we provide administrative and regional information and services tailored to individual needs.
- In the future, we aim to offer public and private one-stop services to citizens (considering tax number system collaboration and utilization)

Advanced Open Data Promotion Area in Japan

A rich and extensive data and well-developed service or application development environment

- Maintain "DATA for Citizen" to be an open data platform.
- In addition to being able to view public data, develop services and applications that utilize data. Currently, 133 data are released, 43 applications are developed and provided.
- API development / standardization
To promote the use of open data and anonymized personal data, standard API and develop portal for developers.